10 French films to watch if you loved Emily in Paris
Today we're taking a look at films set in Paris that give a real look at life in the French capital - from 1930 to today - but also sweet films set in a Paris that only exists in movies, much like Netflix's new Emily in Paris. Hey, it's nice to dream from time to time. After all, Paris IS a beautiful city, and French people ARE impatient with tourists! Get ready for a stroll through the streets of, the one and only, city of lights.
In Paris (Dans Paris)
Reminiscent in a way to a film like Crash with multiple storylines somehow intertwined, Paris isn't a postcard Paris film. But as the title suggests, the capital is more than just a setting and is at the heart of the film. Directed by Cédric Klapisch (The Spanish Apartment, Chinese Puzzle), Dans Paris is a wonderful film about what it is to be a human.
Paris je t'aime
This collective film made from shorts from 22 directors including the Coen Brother, Gérard Depardieu and Olivier Assayas is a beautiful love letter to the city of lights, arrondissement by arrondissement. Funny, charming, the movie will undoubtedly make you fall in love again with Paris.
Watch it for free on FrenchFlicks!
Zazie dans le métro
This overlooked classic French film is an inventive, surreal, quirky and constantly funny comedy set amidst a subway strike, which means the film is mostly shot in Paris streets, cafés, restaurants... and on top of the Eiffel Tower!
Stream it on The Criterion Channel
Amélie (Le fabuleux destin d'Amélie Poulain)
It's such an obvious one but we had to include it in here. Although the film was controversial during its French release for depicting on screen a Paris that never really existed, according to some critics - much like Emily in Paris - it is, still today, one of the most beautiful film set in Paris.
Stream it on HBO, HBO MAX, rent it on Vudu and Fandango Now
Love Songs (Les chansons d'amour)
An hommage to Jacques Demy's Parapluies de Cherbourg, Christophe Honoré's dark and tender musical ménage à trois offers beautiful sights of Paris by night.
Stream it on Hulu, rent it on Apple TV and Amazon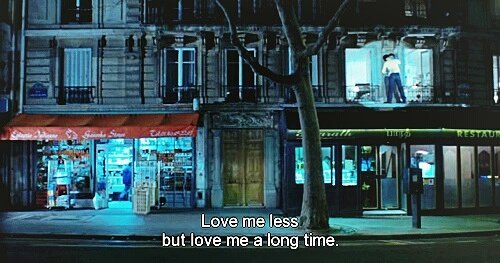 Two Days in Paris
Julie Delpy's rom-com is often compared to Woody Allen's Manhattan for its sarcastic tone, quirky characters and sharp dialogues. It was entirely shot on location in Paris, which means you get nice Paris sceneries. A much more realistic look at the city but you can tell that Julie Delpy loves her home.
Watch it for free on FrenchFlicks!
Belle de jour
Luis Buñuel's drama about a wife who spends her time as a prostitute for the bourgeois of Paris definitely doesn't share the bubbly feel of Emily in Paris. But this 1967 classic film is worth a look for Catherine Deneuve walking around the Champs-Élysées and the 8th arrondissement dressed in full-on Saint Laurent.
Stream it on HBO MAX and The Criterion Channel, rent it on Apple TV and Amazon
La Vie en Rose (La Môme)
Achieving worldwide success, this biopic of the tragic life of French singer Edith Piaf established Marion Cotillard outside of France. There aren't many exterior shots of Paris - a couple in Montmartre though - but it's a powerful look through the art scene in Paris between the 30's and the 50's.
Rent it on Amazon, Google Play, YouTube, Fandango Now, Vudu
Stolen Kisses (Baisers Volés)
Nine years after The 400 blows, François Truffaut continued the adventures of Antoine Doinel, who is now tormented by his love for two women. Most of the film is shot in the 7th and 9th arrondissement and along Boulevard de Rochechouart, at the foot of Montmartre.
Stream it on The Criterion Channel
Hôtel du Nord
The 1938 drama by Marcel Carné is a quintessentially French film focused on the stories of the occupants of the Hôtel du Nord, situated on the banks of the Canal Saint-Martin, a hôtel still open today! Sadly, a lot of scenes by the Canal Saint-Martin were actually shot in studios but don't worry, the film still provides an incredible look at Paris in the 30's.
Stream it on The Criterion Channel
And if you're looking for American films set in Paris, you can't go wrong with Woody Allen's Midnight in Paris and it's over-romanticised vision of the city of lights. Take a look also at Funny Face, with a magnetic Audrey Hepburn strolling and signing in fashion through the streets of Paris, and Before Sunset, Richard Linklater's tender rom-com, which features mostly Julie Deply and Ethan Hawke walking and philosophizing through the streets of Paris. And if you want to educate your kids to the sights of Paris, it's time to watch The Aristocats and Ratatouille!
=> 5 French films Like Amélie to Stream right now
=> Every French film on Netflix
=> 75 French movies to stream right now for free
=> The best French films on Amazon Prime
=> The 35 best French films of the decade (and where to stream them)