French Film Holiday Calendar
Every country has their own set of holidays and special days to celebrate throughout the year. As we view cinema as all holy, here is our FrenchFlicks calendar of days to celebrate throughout the year, all based on release dates of iconic French films throughout history and suggestions on how to celebrate them! We are Americans after all, and thus, there's always reason to have a party.
1. March 8, 1967 - Young Ladies of Rochefort/Les demoiselles de Rochefort
The quintessential candycoated groovy musical from the 60's, inspired by the Golden Age Hollywood musicals like Gentlemen Prefer Blondes and Singin' in the Rain.
Celebrate by scoping out the cute carnies at your next local fair.
2. March 16, 1960 - Breathless/À bout de souffle
We challenge you to find a more iconic cinematic aesthetic and experience than Godard's stunning French New Wave classic, Breathless, about a suave man on the run and the romance he has within his on again off again American fling.
Celebrate by having a long and existential conversation with your lover after a casual romp in the hay.
4. April 19, 2006 - OSS 117: Lost in Rio and Cairo & OSS 177: Nest of Spies
Jean Dujardin's Hubert Nonisseur de la Bath is France's favorite secret agent. Not exactly a suave Pierce Brosnan or an action packed Sean Connery, but more charming and hilarious than both of them combined.
Celebrate by turning on the rat pack and pouring yourself a dirty martini. And then go see the third installment coming out February of next year!
3. April 21, 2001 - Amelie/Le fabuleux destin d'Amélie Poulain
Many of you might think of Amelie as your re-awakening welcoming you back to French cinema in the new millennium. Others see it as a fanciful ode to the ordinary hero.
Celebrate by booking your ticket to Montmarte, Paris to have a coffee where the movie was filmed at Café des deux moulins.
5. May 4, 1959 - The 400 Blows/Les quatre cents coups
Another defining French New Wave masterpiece, you'll be hardpressed to find a film class that doesn't include this tale of a young boy living in Paris on the search for freedom.
Celebrate by playing hookey to go watch a matinee.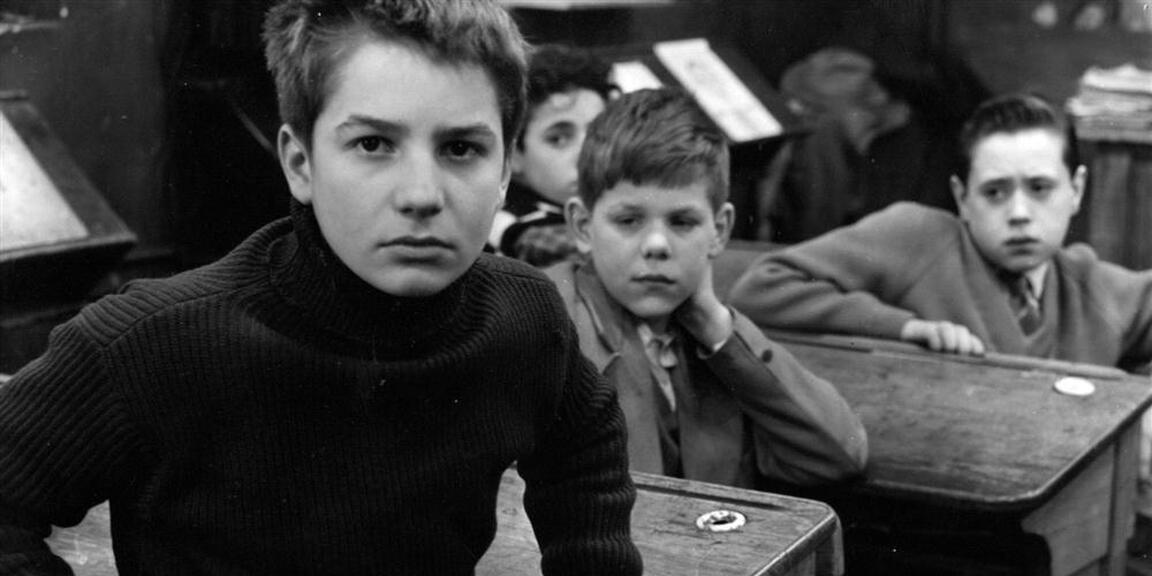 6. June 19, 2002 - The Spanish Apartment/L'auberge espagnole
The cult classic for the students and adventurers among us, Cédric Klapisch directs the cult favorite about Xavier, a somewhat straight-laced international student (Roman Duris in his break out role) who decides to stay with an ecclectic and passionate mix of students, all aged 20-something. Think a more European and free spirited version of Friends.
Celebrate by going couch crashing in the heart of Barcelona.
7. August 23, 2017 - BPM/ 120 Battements par minute
This movie is gay history, activism and romance in the late 1980s/early 1990s all rolled into one with fluid editing, creative storytelling and a fast pace.
Celebrate by visiting and supporting AIDS foundations that seek to find a cure for this unrelenting disease (We suggest the San Francisco AIDS Foundation, the IAS and of course, ACT UP.)
8. September 25, 1928 - The Passion of Joan of Arc/Le passion de Jeanne d'Arc
Roger Ebert says, "You can't know the history of silent film without knowing the face of Renee Maria Falconetti." Her gut-wrenching performance is celebrated and revered close to 100 years later and is completely unforgettable.
Celebrate by saying your prayers.
9. October 12, 2011 - The Artist
A beautiful and expertly executed silent (set to music) about the death of the silent film era, The Artist has received more awards than any other French film. Jean Dujardin's dazzling and expressive face and the heartrendering storyline is enough to make you swoon all year after one viewing.
Celebrate by taking a tap lesson.
10. November 1, 2006 - Tell No One/Ne le dis à personne
Reeling from your scary halloween costumes and treats from the previous night, the thrills don't stop with Tell No One. Adapted by a best-selling American thriller of the same name by Harlan Coben, the film's protagonist is Alexandre, a doctor trying to pick back up the pieces after his wife's homicide. Even though he was attacked on the scene, left in a coma for three days, there is new evidence to connect him to the murder, and off he goes on the run.
Celebrate by going skinny dipping.
11. November 2, 2011 - Intouchables
Believe the hype! Everything about this César Award winning film is a crowd pleaser, from the fact that it's a true story to the unlikely but deeply moving friendship to the Omar Sy dance scenes.
Celebrate by giving your bestie some first date advice!
12. December 27, 1963 - Le Mépris
We can never get enough of Brigitte Bardot gracing our screens. Watch this sensual and resentful adaptation of Alberto Moraia's 1954 novel of a screen writer pressured to commercialize his screen adaptation of The Odyssey, haunted by his goddess wife and muse Camille.
Celebrate by creating art for you and no one else.