What to Watch in June
Each month, FrenchFlicks selects the best French films available on Canal+ International and Studiocanal through DIRECTV. The month of June is full of thrillers with a mysterious and engaging atmosphere (Anthony Zimmer, Le vampire de Dusseldorf or Le Couperet), and popular comedies like Nos jours heureux and Le Léopard.

FILMS (Tuesdays and Fridays at 8 PM EST)* :
ANTHONY ZIMMER (2005) on 06/07/2019
All the police from around the world are after Anthony Zimmer, a criminal genius operating in the financial sphere. No one knows what he looks like, but among the competitors in the chase to nab him, Akerman, an exceptional cop, is one lap ahead: he knows that Zimmer will risk anything to see Chiara again. The young woman was supposed to link up with the elusive criminal, but instead receives a message from him. To shake off the people on his tail, Zimmer asks Chiara to accost a stranger and to make everyone believe he's the man they're all after. Chiara sets her cap at François, an ordinary man who, fascinated by the young woman, rapidly finds himself caught up in a nightmare. In a world full of manipulations and pretense, they all discover that, despite appearances, they're merely pieces in a chess game being played while waiting for the grand master to arrive.
Why FrenchFlicks likes it - A French thriller deeply inspired by Hitchcock, (in our humble opinion), the staging and photography is particularly exciting. A superb success that also owes a lot to the Sophie Marceau-Yvan Attal duo.
It's a tough, harsh and violent period in history: the 13th century in France.
People must be armed to live, survive. The question is which arms to choose? Those for warfare
that give the power to punish and kill, or those of knowledge that give the power to read, cure?Two brothers, who've been separated for a long time, wage a battle to answer this question. Alongside and between them is a woman… Thomas, the elder brother, left the family farm years ago. He became a mercenary and his body is crisscrossed by scars that tell of valiant battles. He returns home to find that his mother, who knew the secrets of natural medicines, has died. She has passed her knowledge on to her youngest son, Arnaud. However, he has been attacked by brigands and lost his memory. His young wife, Guillemette, an obstinate and indestructible woman, convinces Thomas to undertake the dangerous quest of reclaiming lost knowledge.
Why FrenchFlicks likes it - A French film that focuses on the Middle Ages, this is truly a bold piece that must be commended. Thanks to the perfectly constructed story line and brilliant casting (Guillaume Canet, Vincent Lindon, Melanie Doutey), one never finds themselves bored in front of the screen. It's also not the typical period film that hopes to get by on flashy set design and costumes alone, but develops its script beautifully.
FILLES UNIQUES (2003) on 06/14/2019
Carole, a defense lawyer with six years of study behind her, is a little bit rigid and passionate about justice. Tina, a repeat offender with two months in prison behind her, isn't rigid at all and is passionate about shoes.
They meet in court and immediately bond. Maybe it's because Tina inspires Carole and Carole reassures Tina, or because neither has brothers or sisters. They're like the other sister they always wanted to have. Although they may not always agree about right or wrong, one thing they do discover to their great joy is that misbehaving is better done in pairs!
Why FrenchFlicks likes it - Pierre Jolivet can still manage to produce a popular and beautiful film that is both funny and touching, and is of course worth seeing simply for the joy of witnessing Sylvie Testud/Sandrine Kiberlain and the supporting performances by Roschdy Zem and François Berléand.
NOS JOURS HEUREUX (2006) on 06/18/2019
Unforgettable fights at the canteen, first loves, first cigarettes, first parties, unbearable visits to boring museums, nights in tents and sleeping under the stars… Does this remind you of anything?
This summer, Vincent Rousseau will oversee his first summer camp. What with the completely crazy camp leaders (Marilou Berry, Omar Sy), the unruly kids, and surprise visits from "Youth and Sport" inspectors, these three weeks prove to be less cool than planned! Summer camp is not necessarily a summer break for everyone.
Why FrenchFlicks likes it - Five years before Intouchables, Olivier Nakache and Eric Toledano already cast Omar Sy in this comedy, winning great success upon its release. Thanks to his famous dialogue and gallery of crazy characters, Nos jours heureux is fast becoming a cult holiday classic, just like Les Bronzés. One to see again and again and again.
LE COUPERET (2000) on 06/25/2019
Bruno (José Garcia) loved his job as a middle manager at a paper company, but optimistically views being laid off as an opportunity. After two years of searching for a comparable position, the optimism turns to desperation. His wife, Marlene (Karin Viard), is working two jobs, and their marriage is deteriorating as their hold on the middle class slips away. Bruno concocts a grimly audacious plan to identify and kill his fellow job applicants so that he is the only qualified person left.
Why FrenchFlicks likes it - The kind of biting thriller that Costa-Gavras does so well. The intriguing plot is well paced and finds José Garcia at his best in quite a disturbing role. A successful adaptation of Donald Westlake's fascinating novel, The Axe.
QUATRE ETOILES (2006) on 06/27/2019
Franssou, a charming Parisian English teacher, who shares part of her life with a boring middle-aged
lover, dreams of another life. So, when she unexpectedly inherits 50,000 euros, she grasps the opportunity and goes to the French Riviera in order to take it easy in luxury. In the four-star hotel where she rents a room she comes across Stéphane, a strange guy who is in the process of arranging Elton John's next coming to the place. Intrigued by the noisy ostentatious fellow, she follows him until she finally comes into contact with him. She knows Stéphane is at bay and decides to take advantage of it.
Why FrenchFlicks Likes It – A free and frolicsome romantic comedy starring a charminglyrelatable Isabelle Carré, a diabolical José Garcia and an absolutely hysterical François Cluzet.
LES MORSURES DE L'AUBE (2001) on 06/28/2019
King of Paris, for but a fleeting moment, 29-year-old Antoine has undergone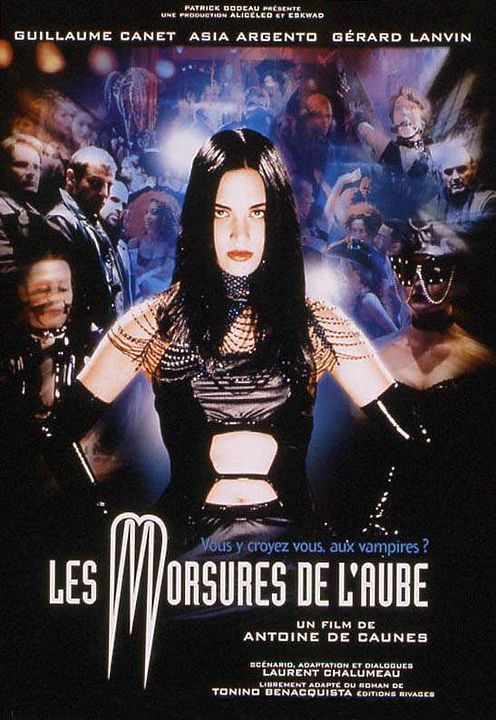 a reversal of fortune that has forced him to give up the social whirl – although the glitter of Parisian nightlife still has him in its thrall. When our story begins, he's established an acceptable compromise: vampire by night, he sleeps all day, aided and abetted by his old friend Etienne, who continues to be amused be Antoine's daring, irony, and Roaring Twenties elegance. One evening, however, Antoine crosses the yellow line. Pretending to be a close friend of the mysterious Jordan, whose name opens the doors to the capital's most exclusive parties, he gets caught by his own lie when a sinister gent requests that he find his "friend," with whom he has some unfinished business. A manhunt for Jordan and his poisonous sister Violaine begins. It quickly becomes clear that, as with a killer shark, it is better to observe this pair of dark nightingales from a safe distance. Antoine has been warned.
Why FrenchFlicks Likes It – A magnificently stylized fringe film that fluctuates between a typical vampire genre and thriller. An adaptation of Tonino Benacquista's novel of the same title.
BRIGADE MONDAINE: LA SECTE DE MARRAKECH (1979)
Genre : Crime
Director : Eddy Matalon
The crime squad follows a track that leads to a Morrocan drug and prostitution ring. They end up involved in an international school to form a mercenary army for non democratic governments.
Why FrenchFlicks likes it - Adapted from a novel by Gerard de Villiers, Brigade Mondaine will delight fans of classic erotic detective films of the time.
LE LEOPARD (1984)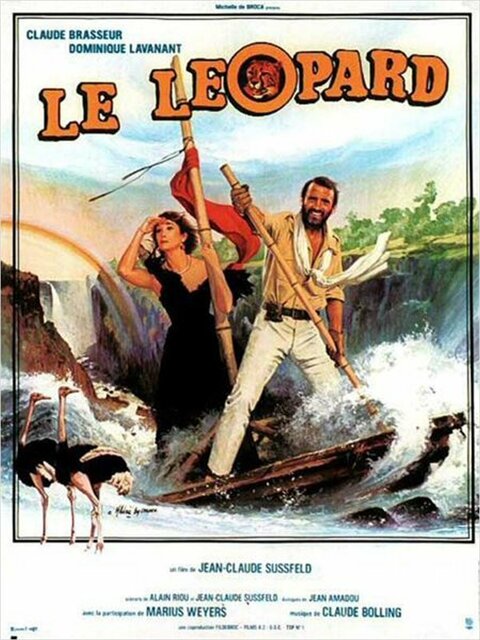 Genre : Action, adventure
Director : Jean-Claude Sussfield
A former secret agent ,who retired and wrote a first novel which tells the eventful adventures of his hero "Le Léopard " ,comes back to work,reluctantly helped by an old maid.
Why FrenchFlicks likes it - Claude Brasseur and Dominque Lavanant form an unlikely and amusingly unpredictable duo. Brace yourself, for everything is a surprise in this wonderfully 80's film.

LE VAMPIRE DE DUSSELDORF (1965)
Genre: Thriller

Director: Robert Hossein
Peter is a laborer who dons fancy clothes and cruises the seedy dives of Dusseldorf for women. Whenever he is rejected by one of the females, he turns into a sadistic murderer. A shy young cabaret singer falls for Peter, but she too becomes a victim of his rage.
Why FrenchFlicks Likes It - From the true and sordid story of the most famous serial killer in Germany (who had inspired Fritz Lang's M), Robert Hossein constructs a film with a gripping atmosphere, aided by an equally intense soundtrack composed by his own father.
*All films are in French without subtitles.