The Five French Films to Watch in January on TV5MONDE
The TV5MONDE January program is simply electrifying, as it includes a documentary that pays homage to French terrain and cheese, a fantastic drama that takes place in the Villa Medici in Rome, and a very popular comedy illustrating the clash between the city (Paris) and countryside (Basque Country).

Les maîtres du fromage (2019)
January 22 at 9.20PM ET/6.20PM PT, in French with English subtitles

A beautiful tribute to the natural land and to the craftsmen, which also offers a nice tour of the different regions of France. An ideal documentary for spending a peaceful evening.
The majority of cheese production today is industrial, resulting in bland standardized flavors. From the Cantal plateaux to the Alpine meadows of Switzerland and the cheese cellars of Roquefort, we meet the craftsmen and women putting all their energy into protecting their land and producing exceptional cheeses.
Director: Éric Bacos
Genre: Documentary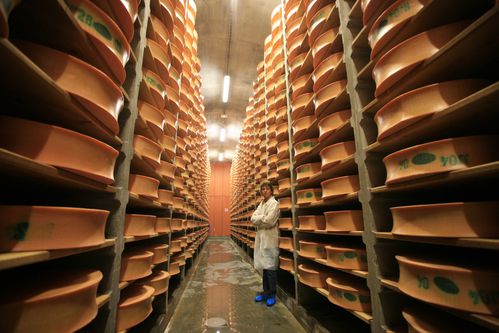 L'indomptée (2017)
January 12 at 8.30PM ET/5.30PM PT, in French with English subtitles

An original debut film with a captivating atmosphere bordering on the fantastical, which keeps you in suspense until the final revelation.
Axèle is a photographer, Camille, a writer. They leave for a year in residence at the Villa Medici in Rome. Camille is accompanied by her husband, the renowned writer, Marc Landré. As a strange rivalry settles between them, Camille becomes friendly with Axèle. But who is Axèle really? A complete artist, without concession, who merges with her work? Or the ghost of places? From this year at Villa Medici, where bodies and minds will free themselves, no one will leave unscathed...
"French director Caroline Deruas' first full-length film surprises with its apparent lightness; a lightness that conceals a profound realism and a series of unsettling twists." – Cineuropa

Director: Caroline Deruas
Cast: Clotilde Hesme (Camille), Jenna Thiam (Axèle), Tchéky Karyo (Marc), Pascal Rénéric (Pierre), Bernard Verley (The Director), Marilyne Canto (Evelyne), Renato Carpentieri (Carlo), Candela Cottis (Raphaëlle)
Genre: Drama
Mission Pays basque (2017)
January 19 at 8:30PM ET/5:30PM PT, in French with English subtitles
With a classic narrative (poking fun at the shock between city life and the countryside), Ludovic Bernard shoots a warm film, unpretentious and with humor that hits the bull's eye.
Sibylle, a young, abitious Parisian, intends to shine in her new professional role by buying a hardware store in the Basque Country before setting up a supermarket there. She thinks she has bought out the old owner but he is under guardianship. Sibylle must therefore make do with Ramon, his nephew, to recover her money or sign the agreement as soon as possible. Otherwise, it's the insured ejection seat. She will quickly realize that the Basques do not intend to let themselves be bought by a Parisian, as pretty as she is.
"Florent Peyre turns out to be the major asset of this light romantic comedy." - Le Parisien

Director: Ludovic Bernard
Cast: Elodie Fontan (Sibylle Garnier), Florent Peyre (Ramuntxo Beitialarrangoïta), Daniel Prevost (Ferran Beitialarrangoïta), Nicolas Bridet (Raphael Morales), Barbara Caabrita (Aranxa), Ludovic Berthillot (Altzibar)
Genre: Comedy
Continuer (2017)
January 5 at 8:30PM ET/5:30PM PT, in French with English subtitles

Virginie Efira once again proves her dramatic acting acumen, a far cry from the light and care-free romantic comedies of her past roles, in this family journey of self discovery through the steppes of Kazakhstan.
Sibylle can no longer stand watching her teenage son fall ever-deeper into a pointless life of violence. She decides to go for broke, taking him off on an expedition across Kirghizstan. Mother and son find themselves alone, at the end of the world, with just two horses for company...
"This is a two-hander as unadorned and straight-ahead as the bare Kyrgyzstan steppes on which it takes place, acted with doughty fixity of purpose by Virginie Efira and Kacey Mottet-Klein." - Variety

Director: Joachim Lafosse
Cast: Virginie Efira (Sibylle), Kacey Mottet Klein (Samuel), Diego Martin (Juan), Mairambek Kozhoev (Mairambek), Damira Ripert (Jamila), Belek Mamatkoulov (Bektash)
Genre: Drama
On ne choisit pas sa famille (2011)
January 26 at 8:30PM ET/5:30PM PT, in French with English subtitles

Christian Clavier takes up the subject of same-sex parenting and creates an entertaining vaudeville style film carried by a four star cast.
César Borgnoli, an Italian car dealer, is on the brink of ruin and his sister Alex offers to help save the family garage by offering César a deal. César has to pretend to be Kim's "husband", Alex's partner, in order to legally adopt little Maily, an adorable 5-year-old girl, in Thailand that the couple wants to welcome. Caesar imagines leaving for a weekend combining business with pleasure but, between him and Kim the current does not really pass and the weekend quickly takes on the appearance of a nightmare.
"In terms of humor, Clavier doesn't hold back, bringing out the big guns, but with a certain finesse." Le Parisien
Director: Christian Clavier
Cast: Christian Clavier (César), Jean Reno (Luix), Muriel Robin (Kim), Helena Noguerra (Alex), Michel Vuillermoz (Jean-Paul), Maily Florentin Dao (Maily)
Genre: Comedy